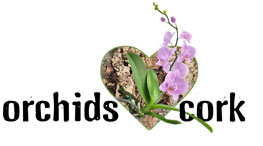 Orchids, in their natural environment, typically attach themselves to tree bark, making cork bark, cork mounts and cork tubes a ideal surface for growing your orchids. The rough bark texture and the porous nature of cork mounts, make it a ideal mounting surface that is prized for its look and longevity. In fact, mounting your orchid to cork bark comes closest to simulating the natural environment of the epiphytic orchids, with the roots getting plenty of ventilation that will dry quickly or you add moss to help control moisture evaporation.
Another great use for cork, is our cork potting mix that comes in several sizes. The cork pieces mimic the natural environment that orchids grow in, which is a combination of chunky material, that create ideal aeration and drainage. If the roots are left in a wet environment they will deteriorate, which make cork potting mixes, wicking and porous nature, one of the best growing environment.
Potting Mediums:
Orchids love growing in, on and around cork. The benefit of cork for orchids is that holds virtually no water, lasts a long time and can be mixed with other mediums to create unique combinations for growing. Mixes made with cork are typically open and airy. Cork is not only for Orchids but any plant that requires epiphytic like conditions: for example Air Plants (tillandsia) and Bromeliads
Available in: Small bag – 1.25 qts, Large bag – 1.25 gallons, Box – 2.5 gallons
On average one quart of potting media fills a 6″ wide pot; 2 – 4″ wide pots or half of an 8″ wide pot with no plants.
Cork Mounts:
Virgin Cork Bark is an ideal choice for mounting orchids, air plants and bromeliads. The thick slabs of natural cork have an uneven surface and crevices to provide your plant with many places for roots to adhere. One lb. is approx. a 6″x12″ piece but varies due to thickness and shape. All pieces are irregularly shaped.
Available in: 2″ x 3″, 3″ x 4″, 4″ x 6″, 6″ x 12″, 9″ x 9″, 12″ x 8″, 18″ x 8″, 12″ x 3″ (sizes approximate)
Cork Tubes:
Tubes are raw virgin bark in the shapes of the tree limb. They can be used as a hanging container, an "orchid" pot or a mount. The bark is the same as the mounts only in the true form of the tree, which varies from tree to tree. There are plenty of crevices for orchids or other epiphyte plants to root into. They also make excellent warm homes for reptiles. They are cut to stand on their own, but can easily be re cut for your preferences. Works of art in their own right!! Note: All tubes are sliced open on the long end – Cork Tubes are direct from nature so sizes are approximate
Available in: 3″-5″ wide x 5″-8" long, 8″-12″ wide x 5″-8″ long (sizes approximate)
Rustic Cork Tiles:
These tiles are a very unique mounting material for orchids or any epiphyte plant. They are composed of the bark of the tree and then affixed to a flat piece of solid cork. They make ideal choices for mounting on flat surfaces. They contain the same texture as the raw mounts and tubes have, allowing roots to grab hold in the many nooks and crannies. We offer two types of plaques, one being the outside of the bark of the tree and the other being what is known as belly cork, the inside of the cork bark. The belly cork is dimensional and layered so roots can also adhere to it.
Available in: 12″ x 12″, 12″ x 24″
Rustic Specialty Cork Shapes + Cut outs:
These are specialty shapes that can let your imagination soar: The cutouts can be used like the Rustic Tile to adhere small seedlings to. The larger cut outs can be used to mount any epiphyte plant where the center can used for hanging items, picture frames, whatever you can dream of. Make your presentation dramatic!
Available in: Cut Outs-12″ x 24″ tiles
Available in: Shapes-Heart-Large 10″, Heart, Cross, Circle, Football, Square, Star – 5-1/2″-8″