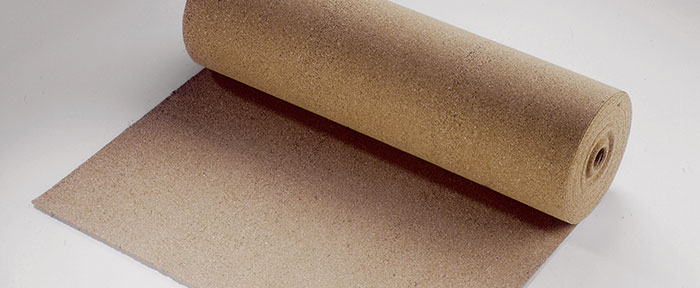 CORK ROLLS WITH MICROBAN® ANTIBACTERIAL PROTECTION
Cork underlay is a cost effective solution for reducing airborne and impact noise problems. Due to the unique 40 million cells per cubic centimetre honeycomb structure of cork and the special nature of the resin binder, it performs outstandingly under floating and laminated floors, wooden floors, ceramic tiles, natural stone, linoleum and vinyl floors. During the cork agglomeration process an antibacterial additive (Microban®) is added to deliver continuous antibacterial and antifungal protection and contribute significantly to the acoustic performance of floors improving environmental comfort.
MATERIALS
Granulated cork
Polyurethane cork binder
Microban® additive
ADVANTAGES
No Formaldehyde
Sufficient compression ratio to avert cracking of tile and grout
Protection from existing or future minor stress cracks in subfloors
Ease if installation – no curing time or messy mixing required
Low height requirement
Resistant to moisture
Thermal insulation
Million of square feet installed failure free
Safe and easy to handle and install
Effective reduction of impact and airborne sound
Increases the thermal comfort of the surface floor
High fire resistance, without the release of toxic gases
Odourless
No harmful chemicals
Enhanced built-in lifetime antibacterial protection
Meets "Green building" requirements
Contains 90% (by weight) of post-industrial recycled content
Natural product, recyclable
LIMITATIONS
Indoor use only
Not recommended where hydrostatic pressure exists
Not recommended to bridge expansion joints or control joints
Not recommended to be used for tiles 4 x 4 or smaller
APPLICATION OF CORK to SUBSTRATE
Apply cork adhesive according to manufacture's instructions. Spread cork adhesive using a 3/32″ x 3/32″ notched trowel. Apply adhesive only to an area the cork underlayment can be set in the adhesive while it is still wet and tacky. Butt seams together, leaving a 3/8″ space around all vertical abutments. Fill in with an appropriate acoustical sealant per manufacture recommendation. As soon as the placement is completed, roll down the entire surface with a 70lb. Linoleum type roller. Roll right angles, inside to outside. This will insure proper contact with adhesive and remove any air bubbles.
SETTING CERAMIC TILES
Use any of the following products to install ceramic tiles over composition cork underlayment: Flexible thinset mortar, Modified epoxy mortar, 100% Solid epoxy mortar, Multipurpose mortar and Sanded thinset gauged with high strength admix. Follow product information sheets for specific instructions. To grout, use the appropriate grout for the tile type, etc. For the installation of hardwood flooring consult manufacture for the correct adhesive and specific installation instructions.
3mm or 1/8″ Cork – Comes In:
100 sq. ft. Roll – 4′ x 25′ Linear Feet
200 sq. ft. Roll – 4′ x 50′ Linear Feet
400 sq. ft. Roll – 4′ x 100′ Linear Feet
Primarily used under wood, wood laminate, cork flooring. Has some acoustical value but not usually used for Sound Control.
Download Technical Specification
Download Material Safety Data Sheet
6mm or 1/4″ Cork – Comes in:
100 sq. ft. Roll – 4′ x 25′ Linear Feet
200 sq. ft. Roll – 4′ x 50″ Linear Feet
Sheets – Each Sheet is 2'x3′ (6 sq. ft. total)
Come in Cases of 300 sq. ft
50 Sheets Per Case
Download IIC/STC Specification
Download Technical Specification
Download Material Safety Data Sheet
8mm Cork or 5/16″ – Comes in:
Sheets – Each Sheet is 2′ x 3′ (6 sq. ft. total)
Comes in Cases of 240 sq. ft.
40 Sheets Per Case
Used for Sound Control under tile, wood, marble – used on any 2nd story building/condo.