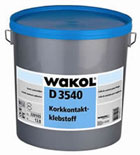 WAKOL D 3540 Cork Flooring Adhesive
Solvent free, water based contact adhesive for the interior installation cork tiles on porous and non-porous subfloors, walls and to permanently adhered, non-cushioned, clean, existing floor coverings.
WARNING: Shipping water based products during winter months is less than ideal. Liquids CANNOT be drop-shipped during winter/cold months without protection. APC Cork understands that jobs must continue so we stock freezer containers to ship. We will not ship without the boxes as once the product freezes it is rendered un-useable. The additional cost to ship is $20.
Features/Benefits:
Solvent free
Extra long working time
Suitable for chair casters
High initial strength
Can be walked on immediately
For radiant heated floors
Download PDF specifications

DriTac 7300 SureBond
DriTac 7300 SureBond is a contractor grade, urethane wood flooring adhesive that is easy to spread and clean up when wet. Containing no water, this non-slumping adhesive delivers a permanent bond and superior coverage against the competition.
DriTac 7300 SureBond is a wet-lay adhesive with low odor that helps contribute to LEED credits. This adhesive is recommended for residential and commercial applications.
Features/Benefits:
Easy to Spread
Freeze-Thaw Stable
Non-Slumping
Low Odor
MVER up to 5 lbs./80% RH
Remains Elastomeric
Easy to Clean When Wet
Helps Contribute to LEED Credits
Download PDF specifications